Lucia di Lammermoor Lausanne
Lenneke sang the title-role in a new production of Lucia di Lammermoor at the Opera de Lausanne (October 2017), conducted by Jesús López Cobos, stage direction Stefano Poda (www.opera-lausanne.ch)
The performance is still available at ARTETV .
Lucio Silla Brussels
After the succes of her Giunia in Teatro alla Scala in 2015 Lenneke returned in this role in a new production in La Monnaie, Brussels. Conducted by Antonello Manacorda, stage direction Tobias Kratzer (www.lamonnaie.be). The performance can be seen at ARTE.TV.
Entführung in La Scala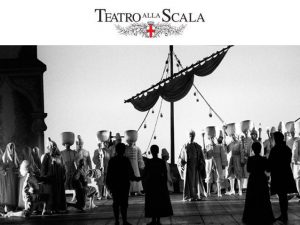 Lenneke sang the role of Konstanze in Mozart's Entführung aus dem Serail at the Famous Scala in Milano this June under the baton of Zubin Mehta. Read the reviews here.
…Dutch soprano Lenneke Ruiten impressed in the challenging role of Konstanze. Her aria "Martern aller Arten" was a performance highlight delivered in shapely streams of coloratura and a finely-focussed upper register…  (bachtrack.com)
FOXIE!
Lenneke sang the title-role in the new Christophe Coppens production FOXIE! (the cunning little vixen – Bystrouška) at the Monnaie in Brussels
"une heure trente de bonheur avec de formidables solistes emmenés par la soprano néerlandaise Lenneke Ruiten, renarde fascinante de présence scénique mutine et de sûreté vocale"  (Le Soir – Michèle Friche)

Watch two promo's here and an excerpt here
COSI IN ALICE TULLY HALL – DEBUT NEW YORK, MOSTLY MOZART FESTIVAL
In august 2016 Lenneke made her debut in New York, in a concertversion of Cosi fan Tutte (role Fiordiligi).
"Ruiten showed cool, Gundula Janowitz-like "French vanilla" tone, floating over some ensembles, and musical strength in sending forth well-sculpted phrases into the hall."
"she's clearly a serious, gifted artist." (www.classicalvoiceamerica)
© R. Termine
MITRIDATE IN LA MONNAIE BRUSSELS
In May 2016 Lenneke has been very succesfull in the role of Aspasia in Mozarts Mitridate in Brussels. Read the reviews here
STATE VISIT DUTCH KING AND QUEEN IN FRANCE
On the 11th of March 2016 the Dutch King and Queen hosted a concert and a reception at the Petit Palais, to thank President Hollande for his hospitality during their state visit. The concert was given by Lenneke, accompanied by pianist Thom Janssen and the Ruysdael Quartet.
NOZZE DI FIGARO – DROTTNINGHOLM/VERSAILLES
The Drottningholm-production of Le Nozze (With Marc Minkowski) was performed at the Chateau de Versailles in Januari 2016. Read more here
ROSENKAVALIER STUTTGART
Lenneke made het debut as Sophie in the Stefan Herheim production of Rosenkavalier. More info see Schedule
DUTCH NATIONAL OPERA
December 3rd 2015 Lenneke made her debut as Gretel in a new Lotte de Beer production of Hänsel und Gretel
(Humperdinck). The Nederlands Philharmonic Orchestra was conducted by Marc Albrecht.
DVD Don Giovanni Salzburgerfestspiele 2014
The DVD of the Salzburgerfestspiele production of Don Giovanni has been released summer 2015.
TEATRO ALLA SCALA
On February 26 2015 Lenneke made her debut at the Teatro alla Scala in Milano in the opera Lucio Silla in the role of Giunia, conducted by Minkowski. (2-2015)
THEATER AN DER WIEN DEBUUT
In October 2014 Lenneke made her debut in Vienna at Theater an der Wien in the titlerole Iphigénie in Iphigénie en Aulide by Gluck. (10-2014)
CONCERT MUSIKFEST BREMEN
With Rolando Villazon and Emiliano Gonzalez Toro and Les Concerts d'Astrée conducted by Emmanuelle Haïm Lenneke sang work by Monteverdi at the Musikfest Bremen. (9-2014)
DONNA ANNA AT THE SALZBURGER FESTSPIELE
Lenneke Ruiten sang Donna Anna at the Salzburger Festspiele in a new production of Mozarts Don Giovanni
(Eschenbach / Bechtolf). (7-2014)
ORLANDO HOLLAND FESTIVAL
During the Holland Festival in Amsterdam Lenneke sang Angelica in Händels Orlando. Bejun Mehta sang Orlando, conductor was Rene Jacobs and the director was Pierre Audi. (6-2014)